GEN International Newsletter Summer 2016

Seeds of hope and abundance from Africa
Dear Friends,
We are delighted to bring you the GEN International newsletter. Leila Dregger did a fantastic job eliciting news from the GEN networks for the past four years – and it is with great gratitude to her and Maya Norton, our Communications Director, that we welcome the renewal of GEN's positive flow of news from communities across the planet.
Special thanks as well to Sonita Mbah, Executive Secretary of GEN Africa, who has been instrumental in helping us shine a spotlight on the growth and accomplishments of this amazing region.
We find ourselves in times when the political climate itself is shifting, in more than one way – with challenges becoming more crystallized and less ignorable, while at the same time, the Sustainable Development Goals (SDGs) and Climate Change Agreements provide a very supportive environment for ecovillage development. Governments around the planet are being pushed to look more closely at the implementation of solutions. Not an easy task, it seems.
The sixth special session of the African Ministerial Conference on the Environment (AMCEN) was held from April 16th-19th, 2016 in Cairo, Egypt under the theme: "Agenda 2030 and Paris Agreement: From Policy to Implementation in Africa". GEN was there, with our partner in Egypt, Sekem, offering a side event on "Resilient Ecovillages in Africa", which met with a high level of interest from various African ministers.
GEN International, together with GEN Africa, has developed a 'Pan-African Ecovillage Development Programme', designed to radically reform current development practices, putting communities at the heart of the process. The full and inclusive participation of communities and of the people on the ground in the conception and implementation of activities to implement SDGs will be the key to success. Together with Sekem, GEN is aiming to focus on a few countries, and the development of 'Showcase Ecovillages', to inspire change of a kind that benefits the many, not the few.
During my travels, I have experienced sheer astonishment at the growing scale of interest in the Ecovillage concept. No, we are still not a household name like Greenpeace or Amnesty International. But it feels pretty amazing to be told by Chinese business people, Ghanean youth, African ministers, and Palestinian activists alike that 'Ecovillage' is their dream. The integrity of work in thousands of communities around the planet is starting to ripple out.
You can get involved and help grow this effort by connecting with us on social media and by reading our annual report to learn about the vast array of good works and energy flowing through the GEN network.
Thank you for your interest! Please help us share the news.
With warm regards,
Kosha Joubert, Executive Director
With Maya Norton, Director of Communications
And Sonita Mbah, GEN Africa
Cover Letter - Ousmane Pame, President of GEN Africa
Dear Readers,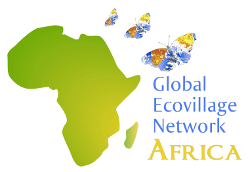 It is a privilege and honour to have a special GEN International Newsletter entirely focused on GEN Africa and the fantastic community dynamics our network is implementing and supporting throughout Africa.
Since its birth in December 2012 on the fertile banks of the River Nile, GEN Africa has been spreading its roots across the African continent, inspiring grassroots communities and their leaders and bringing radical changes on the ground through capacity-building and awareness-raising programmes, such as ecovillage design courses, workshops, conferences, TV and radio shows, and social media networks.
As a result of this momentum, national and regional networks have come into existence: GEN Mauritania, GEN Rwanda, GEN Ghana are all legally registered. Other networks are in the registration process. In West Africa, REDES or NEEDS in English (Network for Ecovillages Emergence and Development in the Sahel) is a registered sub regional branch of GEN Africa.
Meet the GEN Africa Core Leadership Team
| | | | | | | |
| --- | --- | --- | --- | --- | --- | --- |
| | | | | | | |
| Dr. Ousmane Pame | Niveen Adel Morsy | Linda Kabaira | Sonita Mbah | Joshua Konkankoh | Mugove Walter Nyika | Paul Yeboah |
Connect With GEN International
Looking to become more deeply involved in GEN International's work? Here are five ways to get started:
We always welcome news and updates from ecovillage friends and allies. Please be in touch at [email protected] with the subject heading "Ecovillage News."
With blessings and gratitude,
~ Maya Norton
Director of Communications
Global Ecovillage Network · The Park · Forres, Scotland IV36 3TZ · United Kingdom
Charity no. SC043796 | gen.ecovillage.org
The Global Ecovillage Network has consultative status in the UN – ECOSOC.